Low price full-automatic 3ply medical disposable flat face mask making machine mask production line
1. Equipment Specification

This face mask making machine is mainly used for the manufacture of disposable masks, using ultrasonic welding and photoelectric control technology, which can complete the welding of the mask body and ear straps at a time, with a single channel structure. The fully automatic standardization process can greatly reduce labor costs, and effectively reduce manual contact in the production process to achieve aseptic standards, which is the ideal equipment for mask making.
2.Overview of machines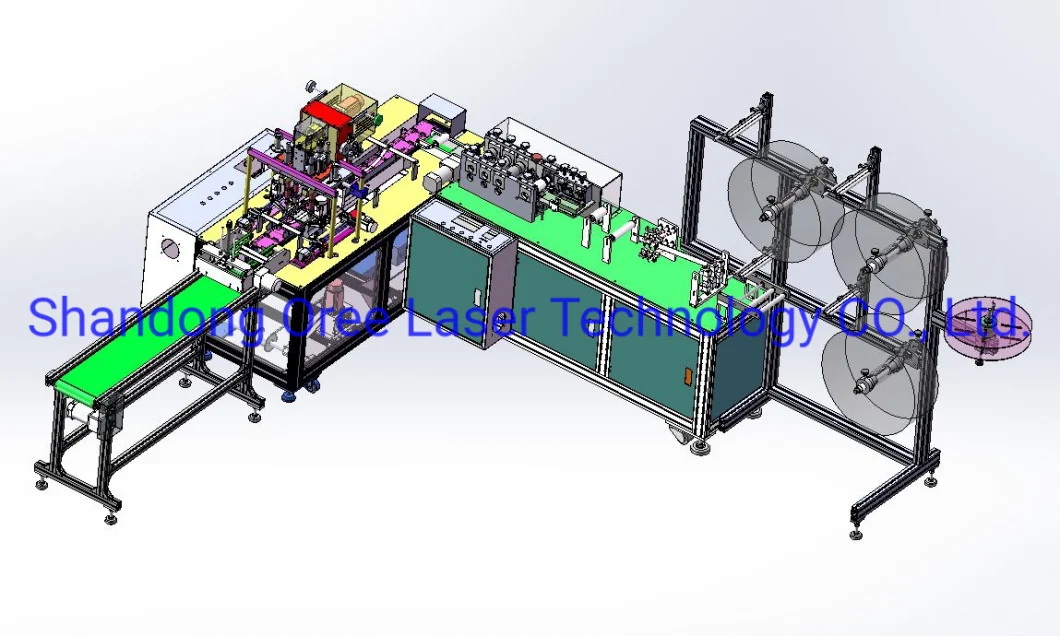 3.Process flow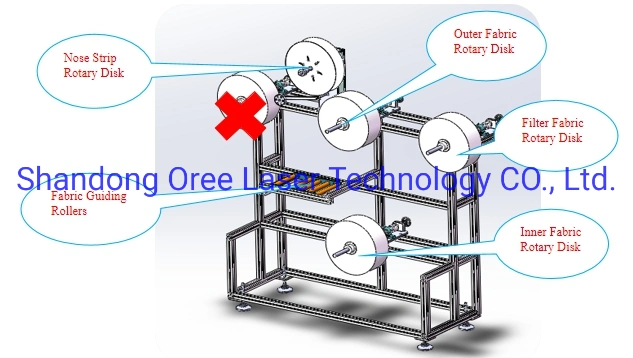 Material shelf:
According to the manufacturer's own production requirements, the required raw materials
(25 g PP non-woven fabric, 25 g melt-blown fabric, 25 g PP non-woven fabric, nose bridge) are placed on the material rack.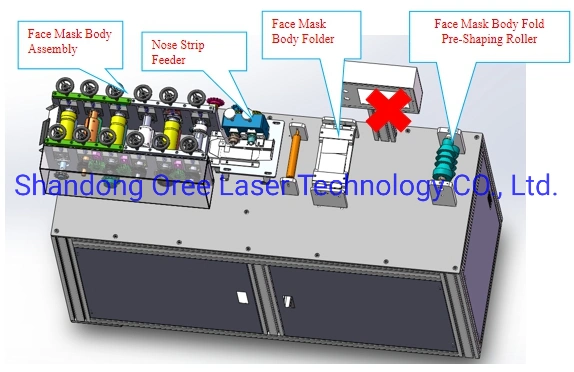 Mask film machine
:
The film machine will fold the main body of the passed mask, automatically wear the nose bridge, and automatically cut it to produce a flat mask semi-finished product.
Folding roller:
T
rimming the three-fold prefix in the middle of the body.
Folding plate:
T
hree-fold molding in the middle of the body.
Nose line set:
C
ut the nose line to form it, and pass it into the fabric.
Forming group:
The fabric is welded twice, cut into pieces, and transported to the next equipment.
The main body of the automatic welding ear belt machine:
The earband welding machine transfers the semi-finished masks from the conveyor belt and uses ultrasonic welding technology to weld the earbands to the mask body to complete the welding of the flat masks, and the finished flat masks are completed.
Feeding driving wheel:
When the feeding control wheel leaves the bottom of the slide bar, the ear belt starts feeding until the feeding control wheel returns to the bottom of the slide bar.
Feeding driven wheel:
T
ighten the ear strap
Feeding control wheel:
C
ontrol the stop and open of the feeding drive wheel
Ear strap length adjustment block:
When the length of the ear strap is required to be lengthened, it can be adjusted here.
Rotating disk:
R
otation causes the earband to move.
Open claw push:
P
ush the material after the ear is melted.
Closing claws:
Clamp the ear straps for intermittent fusion.
Earband thread clamp:
R
efers to clamping the earband thread for continuous production.
Matters needing attention: Please feed and adjust in the stop state.
4.3Ply medical disposable flat face mask prodution line Composition
| | | |
| --- | --- | --- |
| Part Name | Model | Quantity |
| 1+1 fully automatic high-speed production line | OYD-PM200107001GS | 1 |
5.Main advantages
5.1 The machine has high running speed and stable performance
5.2 Using ultrasonic welding technology, the finished product is beautiful, hygienic and environmentally friendly.
5.3 The entire production line is automatic operation from feeding, nose line insertion, edge banding and cutting finished products, high efficiency and labour-saving.
5.4 The frame structure is made of aluminium alloy, the key parts are made of stainless steel, the whole line is not rusty, durable, easy to clean, beautiful and so on.
5.5 Computer PLC programming control, servo drive, a high degree of automation. High stability, low failure rate and low noise.
6. Main parameters
| | |
| --- | --- |
| Model | SK-1011 |
| Speed | 85-95 pcs/min |
| Mask size | (L)175mm X (W)95mm |
| Fabric width | 200mm |
| Material | Non-woven fabric, filter paper, bridge of nose, ear band |
| Mask type | Outer ear |
| Equipment power | 13kw |
| Ultrasonic frequency | 20KHz |
| Air consumption | 5-6kg/cm² |
| Voltage | 220V,50Hz |
| Machine size | 5000(L)X2500(W)X1500(H)mm |
| Weight | 800kg |
7. Configuration table
NO.
Accessories name
Brand

1

Display Touch screen

INOVANCE

2

Servo motor

INOVANCE

3

PLC

INOVANCE

4

Magic eye

OMRON

5

Button

Kndele

6

Emergency button

Kndele

7

Two position switch

Kndele

8

Power switch

MEANWELL

9

Intermediate relay

KACON

1

0

Breaker

TENGEN
8. Applicable material specifications
Content
Material name
Consumables
Unit
Remarks

Raw materials

(Customers can control raw materials according to cost)

25g PP non-woven fabric

0.42

pcs/g

25g non-woven fabric for waterproof PP, outer layer

25g meltblown cloth

0.42

pcs/g

Intermediate filter 90 meltblown cloth

25g PP non-woven fabric

0.42

pcs/g

Inner non-woven fabric

nose bridge strip

0.28

pcs/g

3mm single iron core nose bridge strip




3500 masks per kg

Ear strap rope

0.33

pcs/g

2.5MM ear strap rope 1000 meters per kilogram, 30CM for each mask
Our service: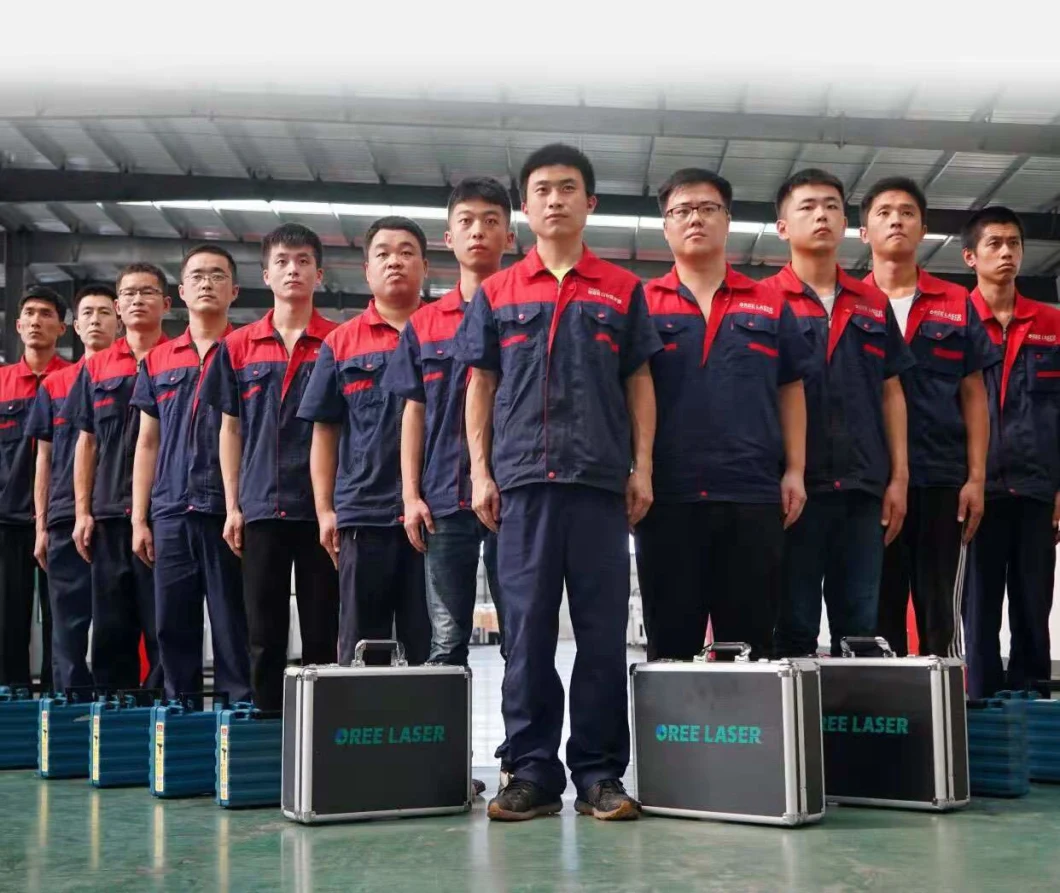 We have more than 20 professional technical r&d engineers and 100 professional installation and commissioning engineers, which can quickly complete your order.So far, has been exported to India, the United States, Russia, Vietnam, Egypt, Turkey, Canada, Australia, South Korea and other countries, and even South Korea and Turkey government departments partners.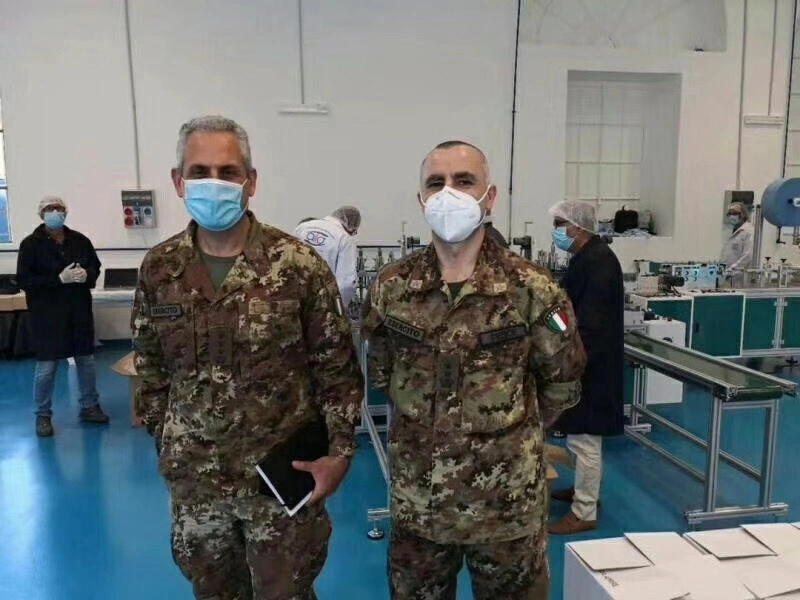 If you have any requirement, please contact us!