Flat Mask Machine Whole Product Line Facial Mask Welding Packing Machine Full Automatic Mask Making Machine


Introduction:

A host (mask forming machine) plus two ear band welding machines (outer ear bands) are connected by a one-to-two transmission line. It can realize the full-automatic production process from coil feeding, folding and pressing, and slitting, ear band feeding machine welding, and unloading. The unique design helps the enterprise to improve production efficiency and reduce labor cost, which only requires one person to operate.
Feature:
1,Using ultrasonic welding technology, the finished product is tidy, hygienic and environmentally friendly.
2,The entire production line is automated from feeding, nose line insertion, edge sealing, and cutting.
3. The frame structure is made of titanium alloy, and the key parts are made of stainless steel. The whole line is non-rusty, durable, easy to clean, and tidy.
4, Computer PLC programming control, servo drive, high degree of automation. High stability, low failure rate and low noise.
5. Automatic tension control of raw materials to ensure that the tension of raw materials is balanced.
6, Photoelectric (optical fiber) detection of raw materials to avoid errors and reduce waste.
7. The machine is dense, small in size and does not take up space.
8,Capacity 70-75 PCS/minute.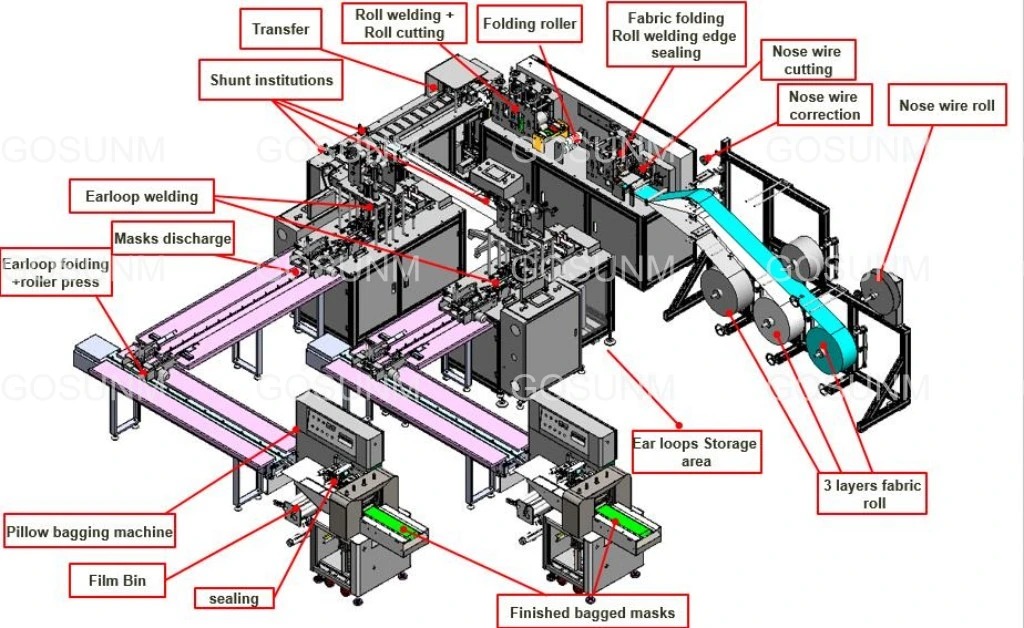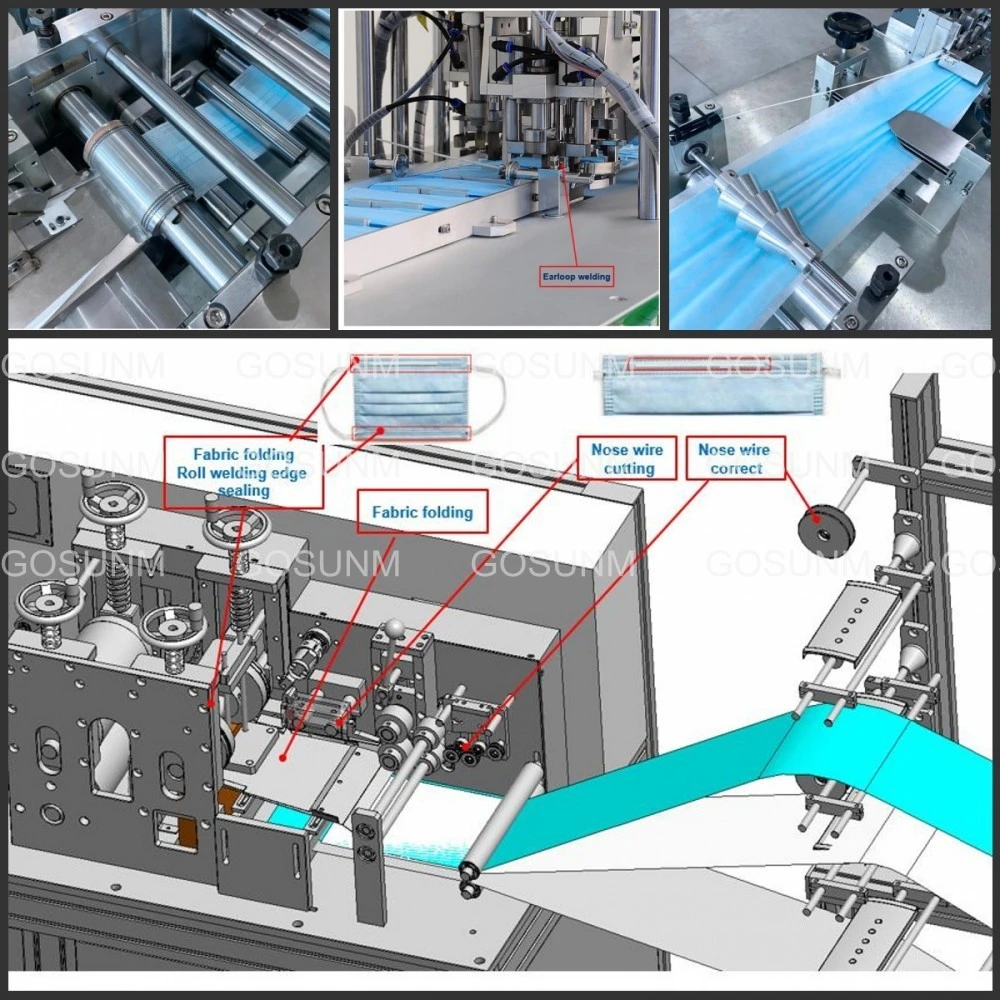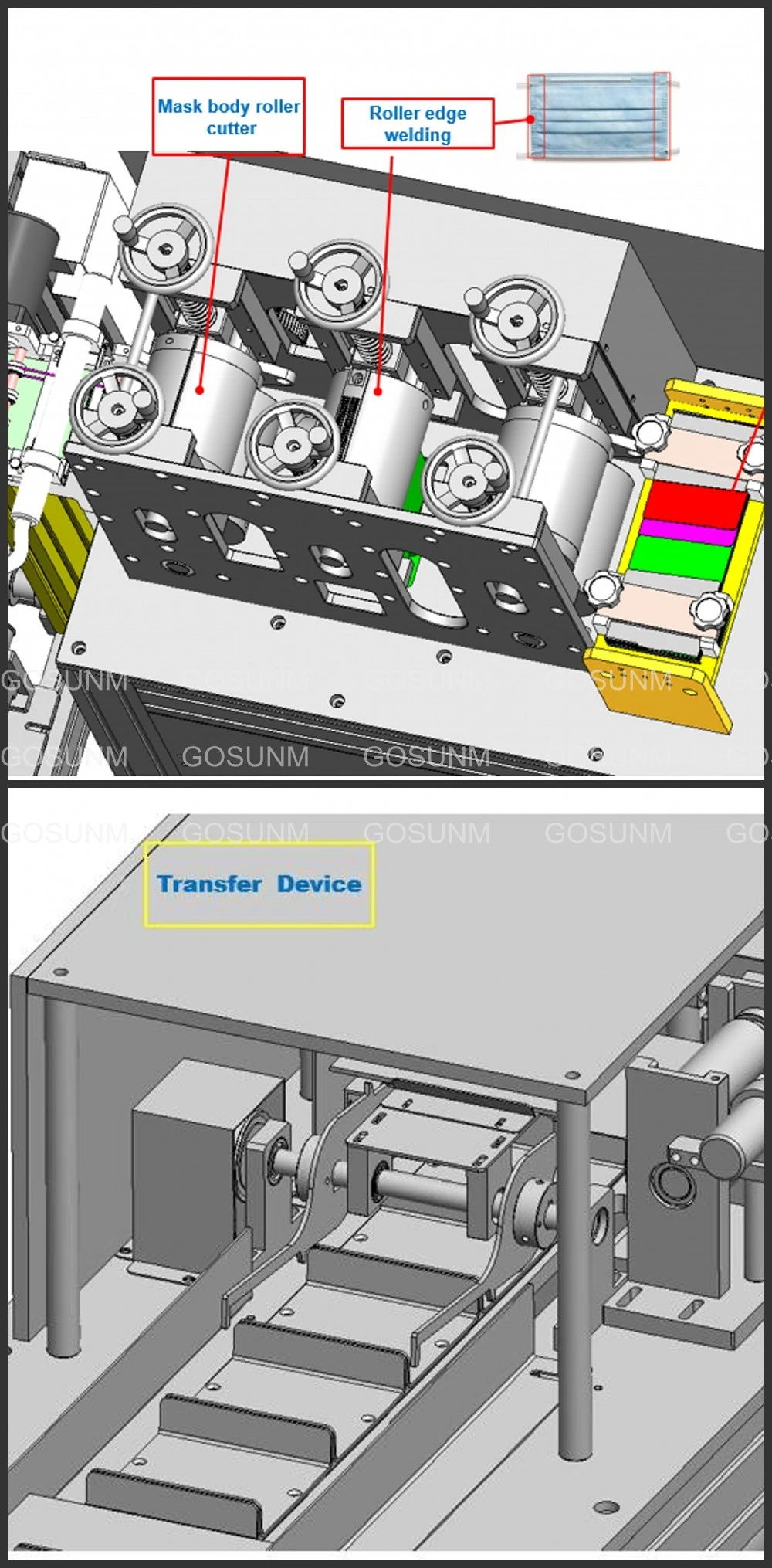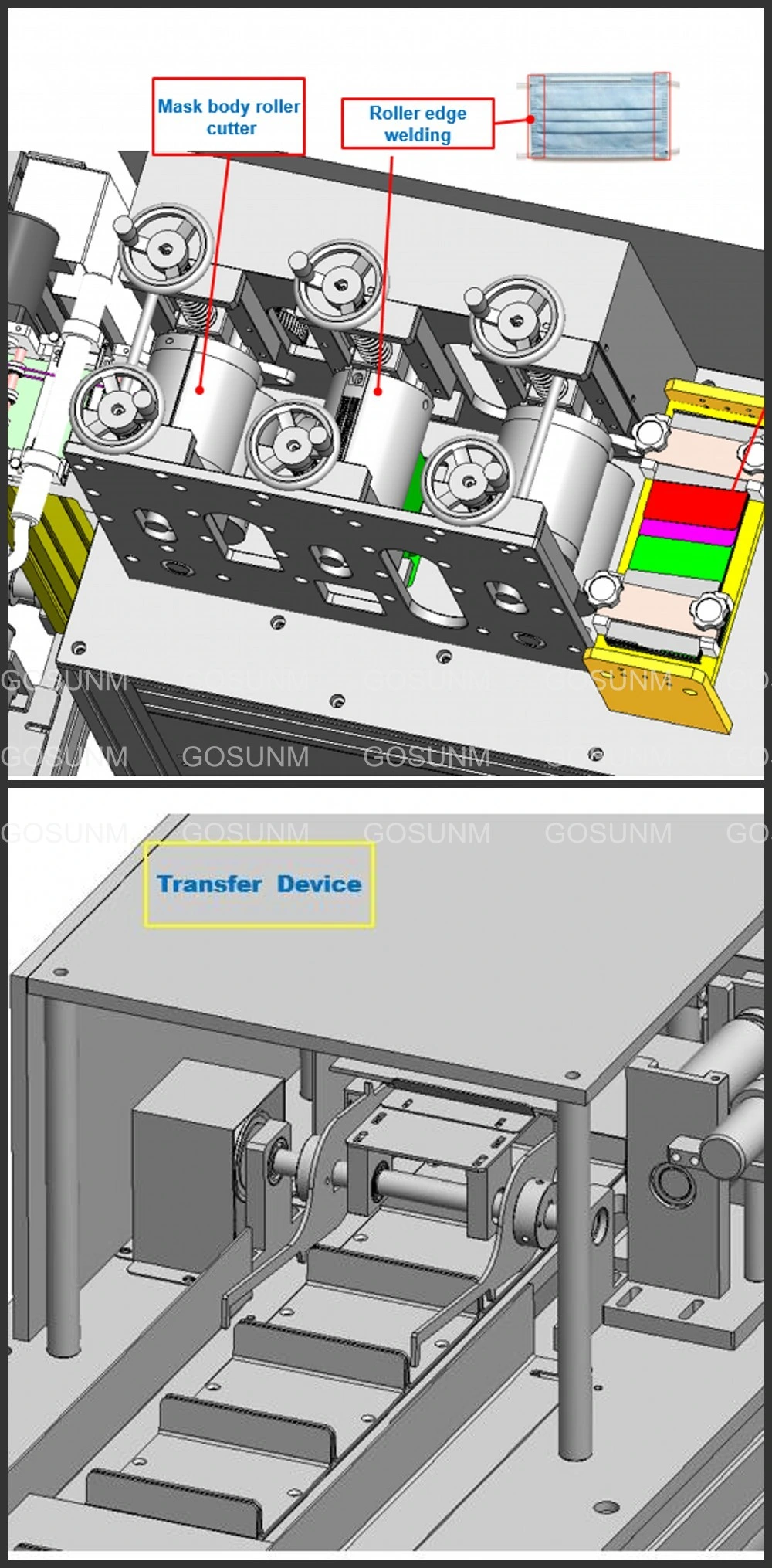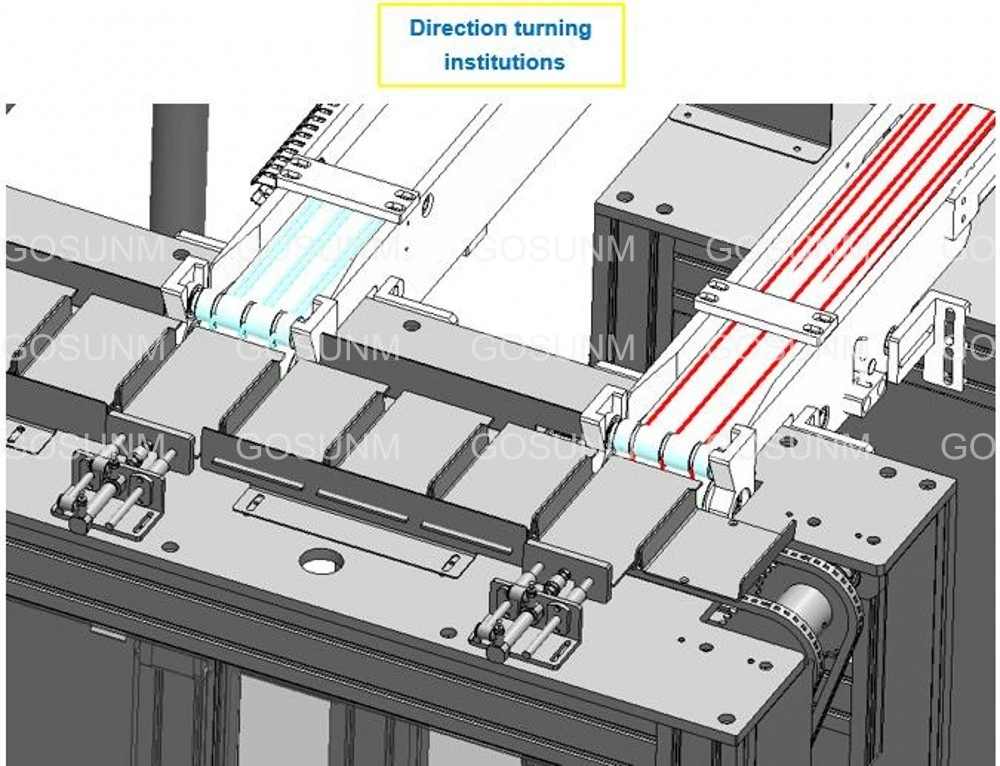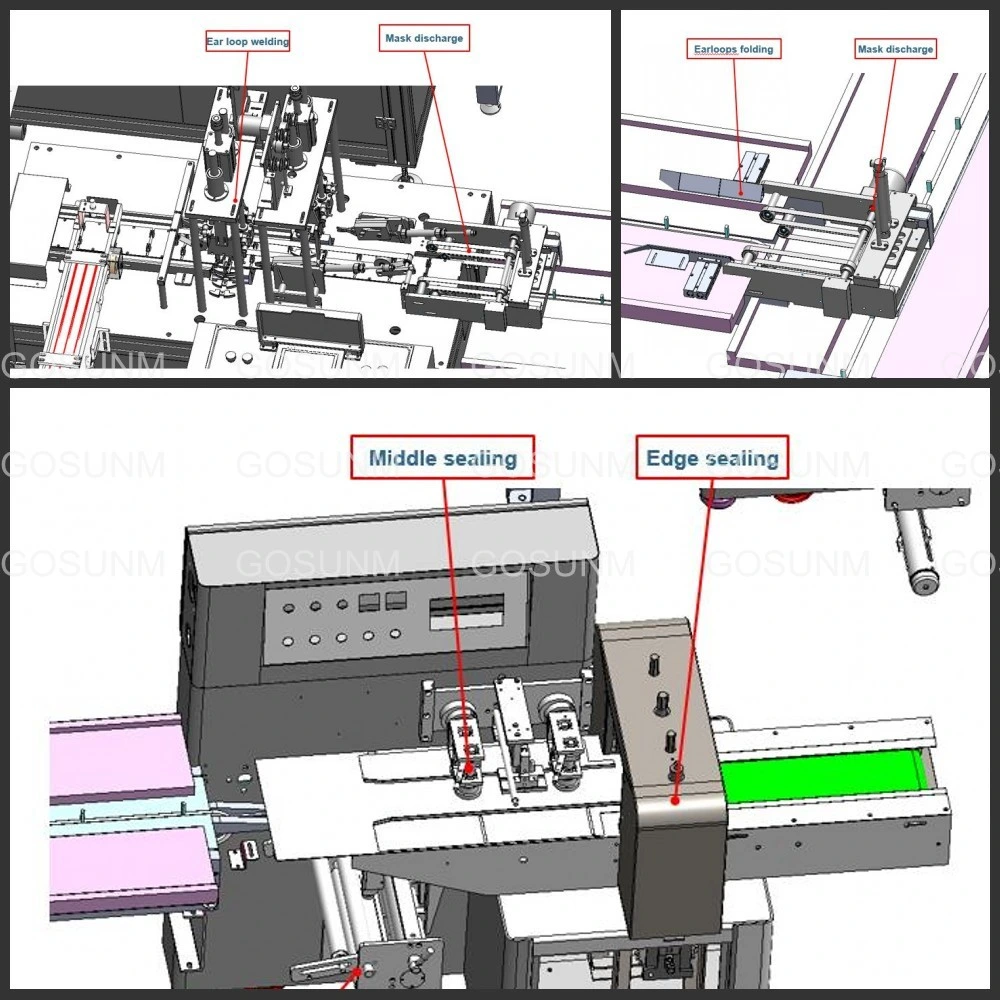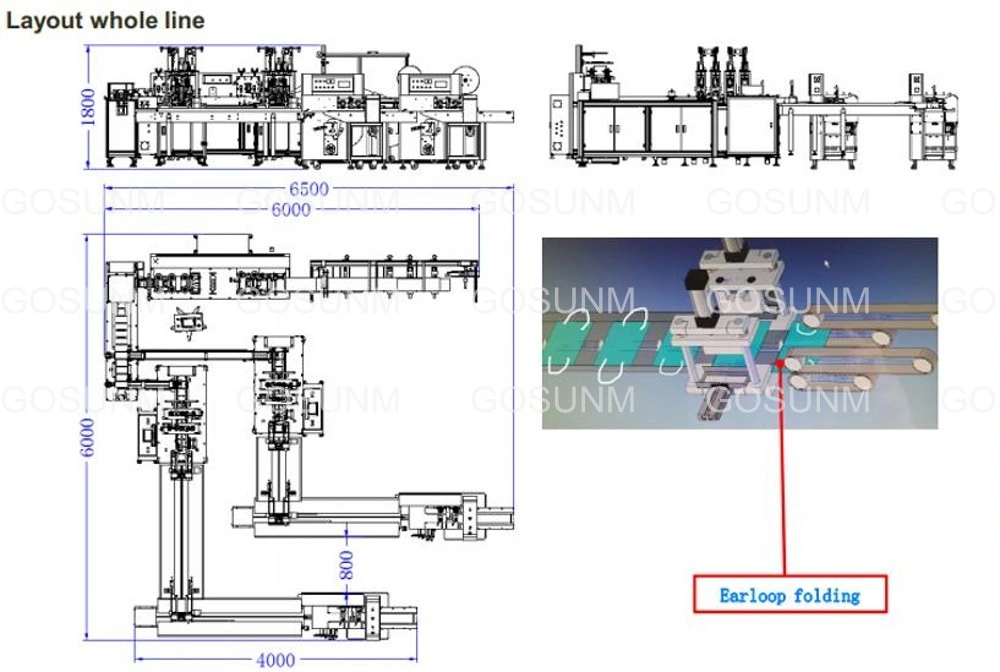 The production line is suitable for 3-layer (without edge banding) flat ear masks with outer ears, mask size
specifications: 17.5CM * 9.5CM
Packing
1.

Film width:Max : 350mm;
2.

Bagging size:120-280mm;
3.

Bagging width :50-160mm;
4.

Product height :Max :40mm;
5.

Film roller diameter:Max :320mm;
6.

Power supply:220v 50/60Hz
Masks manufacture equipment
1.

Dimension:L:6500*W4500*H2000mm
2.

Power:single phase customized as local supply
3.

Capacity:5000-6000pcs/H
4.

Pass rate:higher than 96%
5.

Equipment power:About 10 KW
Raw material
a, 25 g per square meter, width 175mm (non-woven fabric)
b, 25 g per square meter, width 175mm (meltblown non-woven fabric)
c, 20 g per square meter, 200 mm width (non-woven fabric)
d. Nose strip, roll material, width about 3mm, thickness about 0.6 ~ 0.8mm
e. The earband is outward, 3 layers without hemming, size 175 * 95mm